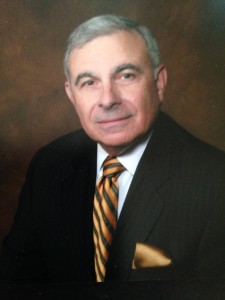 Born in Bethlehem, Pennsylvania, Mr. Vasiliadis attended Bethlehem Public Schools. He graduated from Lehigh University with a BA degree in government and earned his Juris Doctor degree from the University of Pittsburgh Law School. While at Pitt he served on the staff and then as Note Editor for the University of Pittsburgh Law Review, authoring several articles that were published in that journal.
Mr. Vasiliadis began his practice in 1971 and was senior partner in the law firm of Vasiliadis & Vasiliadis in 1991 when he merged his practice with Jacob Kolb and Paul Florenz to form Kolb, Vasiliadis & Florenz. As a policy writing agent for Fidelity National Title Insurance Corporation, he has been conducting real estate settlements for residential and commercial transactions for over 40 years. In addition, his practice concentrates in the preparation of Estate Plans, Wills, Powers of Attorney and Health Care Directives as well as representing Executors in the Administration of Decedents' Estates. He has advised business clients in the formation and operation of Corporations, Limited Liability Companies, and Partnerships.
He served as the Solicitor for the City of Bethlehem for 10 years, supervising the legal affairs of the City, including acting as advisor for the Planning Commission. Since leaving the Solicitor's Office he has represented real estate developers and investors as well as private citizens before planning commissions and Zoning Hearing Boards in many communities.
Mr. Vasiliadis is admitted to practice before the United States Supreme Court, the United States Eastern District Court of Pennsylvania, the United States Third Circuit Court of Appeals, the Pennsylvania Supreme Court, and the Northampton and Lehigh County Courts of Common Involved in his community, he has been Trustee of the Bethlehem Area Senior Citizens Endowment Trust and President of the Bethlehem Senior Citizen Council. He was Legal Counsel and Trustee of the St. Nicholas Greek Orthodox Church Building Endowment Trust and serves on the Board of Directors of the Bethlehem Rotary Club. A member of both the Northampton and Lehigh County Bar Associations, he has been Chairman of the Northampton County Bar Real Property Committee, the Probate and Trust Committee and the Corporation, Banking and Business Law Committee.
Mr. Vasiliadis is assisted by his paralegal Sheri Milisits and Administrative Assistant Christine Ford, both of whom have been working with him for over 12 years. The overriding objective of this legal team is to provide prompt and knowledgeable legal advice and services to clients.